Research based instructional practice and regional career pathways deployment require community wide professional development and the establishment of common language for effective communication to occur between education, business, workforce and policy development sectors. This involves the use of administrator training and  Career Content Academies for human resource professionals, career counselors and classroom instructors in support of regional career pathways deployment and economic development efforts.
STEP 1 – Leverage regional partnerships to convene community wide professional development consisting of representatives from business, education, workforce and government.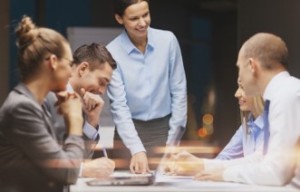 STEP 2 – Conduct regional kickoff event to build momentum around career pathways using data and common language to support effective communication between diverse community stakeholders in support of local talent retention and pipeline development efforts.
STEP 3 – Leverage technology in providing community wide professional development, common language deployment and blended learning opportunities so that all stakeholders are part of the career pathways guidance system.
STEP 4 – Provide accelerated professional development for human resource professionals, career counselors and classroom instructors using Career Content Academies.
STEP 5 – Promote networking and communication using cost effective promotional opportunities of local career pathways.
STEP 6 – Evaluate performance through measurement to inform program improvement
See Research Base to support local career pathways implementation.
THE END