Memphis – National Leader in Career Education
ESSA and Proposed Regional Employment Implementation Solution. The passage of The Every Student Succeeds Act (White House), led by Senator Lamar Alexander calls for the empowerment of  local decision-makers to develop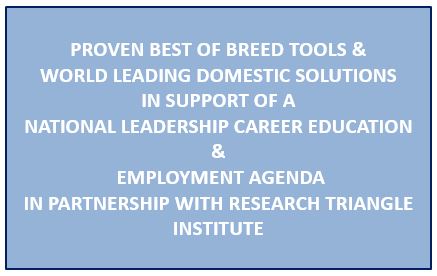 their own strong systems for school improvement based upon evidence, rather than imposing cookie-cutter federal solutions like No Child Left Behind. PathTrek provides an open process that leverages local initiatives and proven platforms by which local and regional efforts can be undertaken to support school improvement through evidenced based employer and learner centric processes that align research based career and academic development efforts with regional economic development goals.  In the end, the PathTrek Process is designed to improve community wide economic development and the overall quality of life for workers while reducing income inequality. The former is done while addressing State of Tennessee College and Career Readiness standards and the requirements of the Workforce Investment Opportunity Act (WIOA) in context with regional employer demand and individual learner needs.
This proposal outlines a proven ready to go research based implementation solution and National Career Education Leadership strategy in support of the recent Economic Development Growth Engine (EDGE) restructured Greater Memphis Alliance for Competitive Workforce (GMACW) effort.  The leadership strategy and implementation solution supports the deployment of employer demand driven career pathways that leverage existing local initiatives and proven best of breed technology platforms in support of regional workforce and economic development efforts. Proven Ready to Go is emphasized, based on the Memphis and Shelby County Region, lagging its peers at the bottom in 5 year employment growth that comes arguably as result of large components of the GMACW regional talent pipeline development effort being two years behind schedule. This delayed implementation comes on the back of a lack of State and Local checks and balances and sense of urgency and the former GMACW Board led and approved foreign Canadian subsidiary contract award using an unproven technology platform that excluded American firms that could deliver on time from participation. This is nothing against foreign trade. Currently, the Tennessee Board of Regents engages a Canadian firm to provide high quality learning management system services in Desire to Learn (D2L).
Regional Career Pathways and Return on Investment. The deployment of employer demand driven career pathways (defined education, training, employment and experience sequences to a career goal) results in the implementation of a common language and regional curriculum informed by a return on investment (ROI) methodology. The ROI formula is derived while matching regional projected occupational demand with skills, knowledge, completer data, current job openings and etc using widely recognized authoritative public data sources.
This former is done to inform career/job search, recruitment and employment initiatives, research based instructional practice, vocational program and degree offerings and career education for ALL based on regional employer demand and individual learner preferences, interests, needs and skills (PINS). The approved public data used to derive the ROI formula serves as a common language support that facilitates effective communication between business, education and workforce in support of regional economic and workforce development efforts while serving individual learner needs. By considering and serving employer and learner needs, an increase in program and degree completion rates are more likely to increase while improving State of TN taxpayer ROI in pursuit of State of TN Drive to 55 goals.
Leveraging Best of Breed and Existing Initiatives. With GMACW at the nexus of business, education and workforce development, this proposal leverages the following existing initiatives,  proven ready to go platforms and and fundamental research based principles in a  National Leadership best of breed implementation model. The model is designed  to support increased employment, regional collaboration, career pathways deployment, work based learning, common language, workforce and economic development initiatives:
Professional Development and Implementation Team – While much is made about web based and mobile technology, the implementation plan which is outlined in this proposal / research base and the implementation team are arguably most critical to achieving desired regional outcomes. This proposal would ask that the Shelby County Commission during budget hearings ask Shelby County Schools to schedule professional development to support this proposed implementation.  To see the implementation team, please see – http://pathtrek.net/team/
Career Navigation Technology– Proven ready to go mobile ready career navigation technology in the Headed2 platform with a 13 year domestic service history. The ready to go Memphis site can be  accessed here at http://win.headed2.com . The Headed2 Platform is currently in service throughout the country on a statewide and regional basis and can be accessed at the following urls: CA- http://cacareerzone.org, PA- http://pacareerzone.org, Kansas City – https://www.explorekccareers.com/, New Orleans – https://gno.headed2.com/, VA –http://dreamitdoitvirginia.com, Cincinnati – https://www.dreamitdoitoki.com/, http://headed2.com and others.
Indeed Job Board Technology – Integrates, leverages and promotes world's #1 job board in Indeed while leveraging the current job posting practice of regional employers. Effectively, it does not require employers to interact with duplicate job posting services while avoiding employer training cost associated with a new job board. The Ready to go Headed2 platform supports a fully populated Indeed Job Board linked to regional occupations and job openings. The integrated Indeed job board can be accessed here – https://win.headed2.com/jobs/. Should another job board be preferred like https://jobs4tn.gov, as an open platform, the Headed2 platform can help accommodate that integration.
Assessment and ACT WorkKeys (Right people for the right job) – Provides promotional support, curriculum alignment and career navigation support for the widespread use of ACT's National Career Readiness Certificate (NCRC) and Workready Communities platform as advocated by The Strickland Administration – https://workreadycommunities.org/ . Additionally, Headed2 can integrate with other assessment platforms other than ACT WorkKeys should that need arise. This proposal would ask that the Shelby County Commission during budget hearings to include a budget line item for high school occupational assessment for Shelby County High School Students in order to annually produce 7-10k  NCRC career ready learners in support of local employment and workforce development initiatves. The Ready to go Headed2 platform supports ACT WorkKeys alignment with regional occupations and can be accessed here https://win.headed2.com/workkeys/ . Also, a video that describes ACT WorkKeys featuring the late Gwne Ifill can be accessed here – https://www.youtube.com/watch?v=EHqRZ7Jj-M8&feature=em-share_video_user
Assessment and O*NET (Right people for the right job)  – Standardizes on O*NET the world's leading authority on occupational information while using O*NET research based  individual learner assessment in interest, work value and skill confidence. The Ready to go Headed2 platform supports research based O*NET assessment with regional occupations and can be accessed here – https://win.headed2.com/assessment . Another video that describes the importance of self, career exploration and planning in relationship to occupational demand can be found here in the video entitled "Success in the New Economy"-  https://www.youtube.com/watch?v=zs6nQpVI164
Assessment Career Portfolios for All (Right people for the right job) – A formal compilation and articulation of one's career navigation experience and goals. The Headed2 platform supports digital and printed career portfolios and sample can be accessed here – https://1drv.ms/b/s!AiNXRWm6KZQi0y7zZ26p2lZ38wa_
Regional Labor Market Information – Using authoritative sources, integrates regional labor market information into the career navigation process to support career decision making and regional career pathway deployment. The ready to go Memphis Headed2 platform supports a regional articulation of labor market information to support the pursuit of regional workforce equilibrium and can be accessed here – https://win.headed2.com/pages/data
Regional Career Pathways Clusters – In demand regional career pathway clusters with access to all 16 State of Tennessee approved national career clusters. The ready to go Memphis Headed2 platform supports a regional articulation of 6 promoted regional  in demand career pathway clusters – https://win.headed2.com/pages/clusters and all 16 career pathways clusters can be accessed here at –  https://win.headed2.com/clusters
National Leadership Partnership – Leveraging local assets, proposes a Nation Leading Partnership with the World Leader in occupational information in the Research Triangle Institute (RTI) who administers the O*NET data collection effort. RTI is well positioned to consult with Memphis on an expeditious strategy to fill local jobs while working in partnership with local policymakers, leaders, educators, employers and implementation team. To learn more about this World leading data collection effort, please see the following link – https://www.onetcenter.org/dataCollection.html
PathTrek Research Base – Uses a convergent research base to guide regional career pathways deployment and talent pipeline development efforts and is contained in the following pages.
Video Content and Brand – Can accommodate, leverage and support Memphisworks videos, brand and domain.
Background. Over the past three years the City of Memphis, Tennessee has taken steps to address regional economic growth with a specific focus on workforce development. The focus on workforce development was fueled by a collaborative regional metropolitan business planning effort with the Brookings Institution Metropolitan Policy Program. The effort culminated with an October 2014 publication entitled FOCUS: A Roadmap for Transforming the Memphis Economy. The collaborative research effort and Brookings publication revealed a significant shortfall in metropolitan educational attainment.
To that extent, City Leaders moved swiftly to address the problem with the establishment of a new entity entitled, The Greater Memphis Alliance for a Competitive Workforce (GMACW). The entity is charged with aligning regional educational efforts with employer occupational demand. Representatives from business, education and government are represented on the GMACW Board that oversees the work of the GMACW Chief Executive Officer. State, federal and philanthropic funding support the work of GMACW.
Further, on May 9, 2016, recently elected Mayor Jim Strickland moved to align metropolitan workforce development efforts with occupational skill development under the leadership of Kevin Woods. Kevin Woods is Executive Director of Memphis based Workforce Investment Network. The effort implements, American College Testing's (ACT) Work Ready Program which provides a curriculum and skill measurement platform to support occupational skill and common language development for the benefit of regional workforce and economic development efforts.
The ACT Work Ready platform effectively supports communication between career / workforce development providers and employers using a simple to understand common language consisting of Bronze, Silver, Gold and Platinum skill levels. These skill levels are then related to occupational profiles developed and maintained by ACT that show the skill level requirements for a given occupational opening. Through the use of this tool, employers can be assured that applicants have the prerequisite skill levels to receive training and meet on the job occupational performance requirements.
And finally, The City of Memphis Office of Youth Services under the leadership of Mr. Ike Griffith is off to a strong start with its recent White House selection as a Summer Impact Hub (White House, 2016). The Memphis Ambassadors Program (MAP) which is part of the Summer Impact Hub drives an 85% graduation which exceeds the current 78% graduation rate reported by the Shelby County Schools (City of Memphis, 2016). MAP serves 440 youth while having 1708 applicants in 2016.
Research Base and Approach. Based on the above efforts, best of breed resources and tools, local economic development needs and the recently passed Every Student Succeeds Act, this paper, using a diverse research base, makes the business and educational case for a shift of emphasis from academic development to career development. The paper leverages research from business and government while using labor market information to propose a Return on Investment (ROI) methodology to help Memphis educate, employ and grow its community. The paper further leverages research and regulation from education, career development and workforce to make the case for what arguably should already be occurring which concerns the delivery of a regionally informed career infused curriculum.
Ultimately, the paper communicates an open and convergent research based process to better serve the Memphis regional labor market in support of regional talent pipeline and economic development efforts.  The resulting research uncovers the importance of organizing regional community consortia consisting of representatives from education, business, government and concerned parents from the general community to address the regional career and economic development effort.  The need for the establishment of and use of common language within a customer centric model emerges from the research as a fundamental requirement to help insure effective communication between community stakeholders from diverse backgrounds.
Derived from the current national focus on the deployment of Career Pathways and the journey associated with career and economic development, "PathTrek" is the name of the research based process. PathTrek employs career development theory, practice and research in order to educate and employ learners and workers while helping grow the regional economy. The PathTrek process is supported by the following elements:
Theory – Implementation of career development theory such as that of Dr. John Holland (O*NET. Interest Profiler, 2016), Dr. Donald Super (Super, 1990) and others.
Practice – Curriculum that employs and aligns career development theory and occupational/employer/sector skill demand with Workforce Investment Opportunity Act (WIOA) Regulation (NWIB, 2015) and academic standards based curriculum. This is done to promote regional career pathways, sector strategies and opportunities in the local community. The resulting curriculum leverages centralized technology, uses an ROI approach based on regional employer skill demand, starts career awareness in middle school and career development in high school occurring thereafter. Curriculum implementation is supported with professional development for all regional stakeholders.
Research – Research that leverages proven instructional practices, sector strategies and labor market information to help guide regional curriculum, career pathways and talent pipeline development. Ongoing research involves organizing and convening regional consortia while listening to community stakeholder customers in order to implement and improve learner/worker talent pipeline development efforts, processes and outcomes.
Skills Gap. In the current economic environment, the implementation of PathTrek involves addressing the "skills gap" among other issues. The implementation encourages a paradigm shift from academic to career development through the use of theory, practice and research. While the existence of a skills gap is generally accepted based on employers' difficulty filling available jobs with qualified personnel, a number of regional systemic issues can contribute to unfilled jobs and regional skill mismatches.
In 2013, the Labor and Economic Analysis Division (LEAD) of North Carolina's Department of Commerce developed a white paper reviewing research on the skills gap phenomenon. The paper found that labor market research does not indicate a nation-wide skills gap—which would be indicated by rapidly rising wages as employers compete to attract a limited supply of workers. However, there is evidence of localized skills mismatches within particular industries, occupations, or geographical areas. Despite the apparent lack of an overarching national problem, surveys measuring the perceptions of business leaders have reported the existence of various skills gaps or mismatches. To some degree, this contrast may reflect differences between data analysis and perceptions of the skills gap. It may also highlight business leaders' experiences in unique localized areas with certain workforce characteristics. In addition, employers' and researchers' definitions of "skills" often differ from each other, and even scientific surveys use a variety of designs and definitions which make direct comparisons difficult (NC Commission on Workforce Dev, 2014).      
The PathTrek Process is designed to address regional skills gaps/mismatches and communication challenges as evidenced above between regional stakeholders through the implementation of career development theory, practice and research. This is done while leveraging regionally approved and publicly available authoritative data sources as published by recognized state governments and national entities such as but not limited to the Bureau of Labor and Statistics and O*NET. This data typically requires professional compilation which supports a coherent and contextualized view of the regional labor market. Such a regional view along with authoritative data sources support a common language framework which is required to help insure effective communication between diverse stakeholders regarding regional skill and talent pipeline development. This effort gets everyone on the same page !
The research base contained in the following pages helps to shape the implementation and the deployment of Memphis region career pathways in support of youth, workforce, talent, employment and economic development efforts. Please see full proposal and research base.